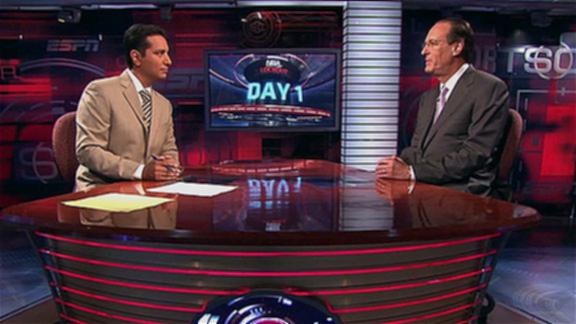 1998:
http://articles.orlandosentinel.com/1998-09-29/sports/9809290627_1_danny-schayes-hard-cap-players
This isn't a coincidence. I'm telling you folks, David Stern has that '98-'99 calendar on his desk with notable news snippets. On Tuesday, the NBA
owners appeared to be budging on their hard cap demands
. We now shift to 13 years ago, and the players' union put its foot down and continued to vehemently refuse a hard salary cap in the CBA negotiations.
Danny Schayes
made his bimonthly Magic player representative appearance in the Sentinel sports section.
Russ Granik, again, was holding strong for the owners. Both sides were at least making some progress as you'll see at the bottom of the article. Also, I'm sure
Marcus Camby
wasn't too happy about marijuana being on the banned substance list.
``Under no circumstances would the players accept a hard cap, but that's been our position all along,'' Schayes said Monday from his home in Denver. ``We're sensitive to the owners' position - and we'll consider almost anything - but not a hard cap. I think we're unanimous that it won't work. We'll sit and wait for as long as it takes.''
Schayes was in New York on Friday at a Players Association meeting when the owners made their latest proposal, which included a hard salary cap, phasing out the exceptions that allow teams to exceed the cap to sign their own free agents.
The salary cap is the biggest issue separating the players and owners, who exercised their option to negotiate a new agreement, instituting a lockout July1. The players would like the salary cap to remain flexible - with all but seven teams last season exceeding it. But the owners want a hard cap with no exceptions, giving them cost certainty.
The owners already have postponed training camps, which were expected to start Oct.6, and canceled the first week of exhibition games. By the end of this week, they are expected to cancel the rest of the preseason.
``I'm hearing that the league really isn't interested in negotiating at this point. The strategy seems to be `let the players miss a few paychecks, and then we'll get serious,''' Schayes said. ``The latest proposal didn't seem much different than the previous one.''
Russ Granik, NBA deputy commissioner, said the owners are equally adamant about securing a hard cap that will slow the rapid escalation of salaries. He, too, said the owners won't budge on that issue.
Schayes, 39, is a free agent this summer. After 17 years in the league, he said he never has seen the players union as unified as it is now.
``The union has been telling guys for a year this was likely to happen, that they should save their money. I think the players have a great respect for [executive director) Billy Hunter and the job he is doing for us,'' Schayes said. ``The owners, I think, their goal is to divide and conquer.''
Both sides are waiting for an arbitrator to rule early next month on whether the owners have to honor the 200 guaranteed contracts during the lockout. Both sides expect that ruling to change negotiations. But that may come too late to save the start of the regular season Nov.4.
``We'll talk about anything but a hard cap. The owners won't talk about anything but a hard cap,'' Schayes said. ``So things are kind of stuck right now. We're all worried about the fans, but the players didn't start this lockout. We didn't cause it. We're ready to go play.''
Players have agreed in principle to the league's request to add marijuana to the list of banned substances and allow a team to have the right of first refusal allowing them to match any free-agent offer made to a player whose rookie scale contract has expired.
The union's offer also has included replacing the $1 million exception with a $2.5 million exception available every year, and an additional $3 million exception for non-playoff teams.