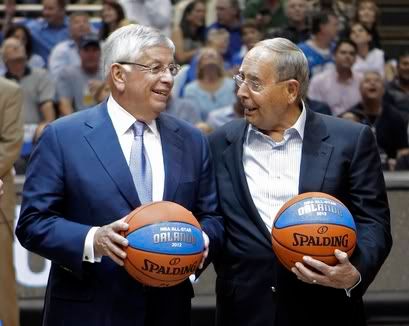 1998:
http://articles.orlandosentinel.com/1998-10-15/sports/9810150222_1_jj-feerick-lockout
I think we can all agree that although Rich DeVos and company have kept their mouths shut so far during these 106 days, Mr. Amway has a completely different perspective on the situation than he did 13 years ago. Larry Guest stumbled upon some inside info at that time and found out that Rich wasn't desperate to have a season.
Oh how times change when you want a championship before you croak. Now the DeVos family have to worry about not losing All-Star Weekend, as well as needing the work stoppage to end so that Otis Smith can pull some trades and do whatever it takes to help keep Dwight Howard in Magic pinstripes.
Click here
, and you'll read about an NBAPA's proposal to league officials about their views on the luxury tax situation. At least they offered an SOME SORT of an actual solution to the problem back then. Instead, today the players' union met (SHUT UP, JAVALE!!!) and David Stern continues his tour of almost every talk radio show imaginable.
Little Bird Dept.: Sources say Magic owner Rich DeVos is among a group of hard-line owners backing NBA Commish David Stern to the hilt to continue the lockout as long as necessary to throw a net over player salaries.
This shouldn't come as a shock, considering that DeVos has consistently lamented the league's financial insanity. DeVos is not your garden-variety egomaniac owner who went business brain-dead the minute he acquired a franchise.
He embraces the concept of a business making a profit and suggests that's a healthy thing not only for owners, but also for players and the sport in general. ... DeVos and others are behind Stern even if dangerous arbitrator John Feerick rules, in the next week or two, that teams must pay the 200 or so players holding guaranteed contracts during the lockout.
Feerick is that citadel of logic who ruled in the Latrell Sprewell case that, in effect, choking your boss is not a firing offense. Before anyone thinks another Feerick ruling in favor of the players would rush the owners into a settlement, be advised that the league would appeal such a ruling, likely tying it up in the courts for months.
Besides, like most teams, the Magic have only a handful of players under contract and still get their $23 million in Turner/NBC TV fees, even if there are no games to telecast. They'd have to rebate, or make good in some other way, each telecast lost, but - get this - not until the end of the new four-year TV contract.
Most owners probably figure they won't be owning their team by then, so that'll be somebody else's problem. Meanwhile, many of them can make more money not playing games, which should be setting off alarms among the players.