The NBA's two top scorers go head to head tonight as Lebron James and the Miami heat host Kobe Bryant and the Los Angeles Lakers.
The Heat returned home from a disappointing road trip and for a while their it looked like their were heading for their fourth straight loss in Tuesdays game against the San Antonio Spurs, that was of course until their second half explosion. With star Dwayne Wade still sitting on the sidelines, Miami let the San Antonio do whatever they wanted on offense as they trailed by as many as 17 points in the first half. However, it was a completely different story when the teams returned from the locker rooms as the Heat outscored the Spurs 39-12 in the third quarter to take control of the game for good. Lebron James led the comeback with a game high 33 points and 10 rebounds, while Chris Bosh added 30 of his own in the come from behind victory.
Kobe Bryant's streak of 40 point games came to an end on Monday night, but it didn't matter as the Lakers got the revenge they were looking for after defeating the defending champion Dallas Mavericks 70-73 to improve to 10-5 overall. Having scored 40 or more points in each of the Lakers past four games, Kobe struggled against Dallas, hitting just 7-22 from the field for 14 points. However, Derrick Fisher would be the hero on Monday night as he hit the game winning three with a little over three seconds remaining to end Mavs six game winning streak. Los Angeles has now won seven of their last nine games as they continue their climb up the Western Conference standings.
Head to head, the Lakers are 0-6 ATS in the last 6 meetings and 1-4 ATS in the last 5 meetings in Miami, while the underdog is 6-0 ATS in the last 6 meetings. The Heat are 9-4 ATS in their last 13 home games, but just 2-7-1 ATS in their last 10 games vs. a team with a winning % above .600 and 1-4 ATS in their last 5 vs. Western Conference. The Lakers on the other hand are 1-5 ATS in their last 6 road games vs. a team with a home winning % of greater than .600 and 1-6 ATS in their last 7 road games.
One of the biggest dichotomies greets the Lakers when they start a two-game trip against the Miami Heat and Orlando Magic on Thursday.
It has nothing to do with Coach Mike Brown's feelings -- or lack thereof -- about coaching against Heat forward LeBron James. It has nothing to do with whether the Lakers should remain satisfied with Andrew Bynum or covet Magic center Dwight Howard. It has everything to do with how the Lakers (10-5) develop.
Bynum said the Lakers need at least one win in the Lakers' two-game set that begins Thursday at Miami (9-4). Guard Derek Fisher said the back-to-back set provides "two good tests for us." And Brown went into cliche mode when he said he sees every game as equally important.
The reality: The Lakers' postseason success won't hinge on which seeding they earn or how many wins they accumulate. It will turn more on how quickly the Lakers develop and how healthy they remain.
The health part remains hard to chart considering Kobe Bryant's ability to play through a torn ligament in his right wrist and because no one knows whether Bynum will avoid another injury. So we're left to analyze how the Lakers are developing.
"We're a big-time work in progress," Fisher said. "We're still trying to develop and create what our identity will be as a team that plays for Coach Mike Brown."
Earning a win against Miami or Orlando would show that the Lakers can contend with a playoff-caliber team. A win would improve the Lakers' 1-4 road record. But neither game will provide much clarity about the Lakers' incomplete identity.
jezz
Main link

:

Watch Live Stream Here!
Lakers vs. Heat: Andrew Bynum Will Steal the Show for Lakers
Might we be watching an NBA Finals preview when the Los Angeles Lakers and Miami Heat square off in South Beach on Thursday night?
It's a little too soon to say for sure. The Lakers and Heat are both good teams, but we know for a fact that they both have their fair share of weaknesses. Those weaknesses could kill them once we get to the playoffs.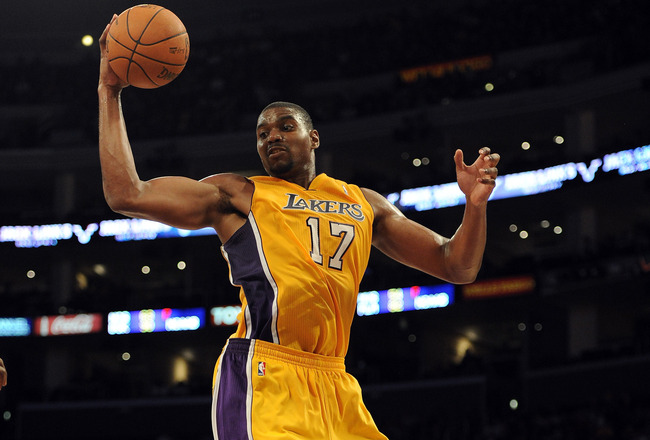 But for what it's worth, we should see an awesome game. We may not see Dwyane Wade (Ira Winderman of the South Florida Sun-Sentinel reported that he was held out of practice on Wednesday), but we're going to see Kobe Bryant, Pau Gasol, LeBron James and Chris Bosh. Fun times will be had by all.
However, the best player on the floor on Thursday night won't be any of the guys listed above. It will be Andrew Bynum.
While you always have to hold your breath and cross your fingers that Bynum doesn't get hit by a slight breeze and come down with an injury, there's no denying the dude is having a pretty great season. He's averaging 16.5 points and 13.9 rebounds a night, and his play has been good and consistent enough to get Lakers fans off the "We Need Dwight Howard!" bandwagon.
As good as Bynum has been, though, he's been flying somewhat under the radar since exploding onto the scene after returning from his season-opening four-game suspension. He's been good, but not great.
That's enough to make me think he's due for a big game against the Heat. But beyond that, you have to like Bynum's chances simply because he represents a matchup problem at both ends of the floor.
On offense, the Heat are going to be hard-pressed to guard Bynum in the vicinity of the basket. And since Kobe is likely to have two or maybe even three bodies committed to him at all times, he and the rest of the Lakers would be wise to keep feeding the Bynum the ball and trusting that he'll produce easy buckets.
Producing easy buckets is something that Bynum is getting better and better at, so asking him to produce a few against the Heat isn't asking too much.
At the other end of the floor, it should be noted that the Heat are a very good offensive rebounding team, and they're going to make life hell for the Lakers if they're getting extra opportunities. To this end, Bynum merely needs to be himself, as he'll be the best rebounder on the floor whenever he's out there.
The only thing that has me worried is the possibility that Kobe will feel the need to force the issue and will start chucking up shot after shot after shot. He has a tendency to do that. In fact, he leads the league in shot attempts per game, and it's not even close.
But Kobe crashed back down to earth in a big way against the Dallas Mavericks, scoring just 14 points on 7-of-22 shooting. He redeemed himself by passing up the last shot so Derek Fisher could give it a go. That worked out pretty well.
Rational thought suggests Kobe will take that as a reminder that he can't do everything all the time for the Lakers. If he takes fewer shots against the Heat, that will mean more opportunities for Bynum.
If he gets them, he'll make the most of them.
I'm going to go out on a limb and say he will.
Besides, he's due.
CLICK HERE TO:
Main link

:

Watch Live Stream Here!