LA Lakers VS Orlando Magic
| | | | | | |
| --- | --- | --- | --- | --- | --- |
| 2nd Pacific | 10 | 5 | 7-3 | 9-1 | 1-4 |
| 2nd Southeast | 10 | 4 | 7-3 | 5-2 | 5-2 |
VS

The Black Mamba and the Lakers visit Superman and the Magic Friday night for a prime-time battle.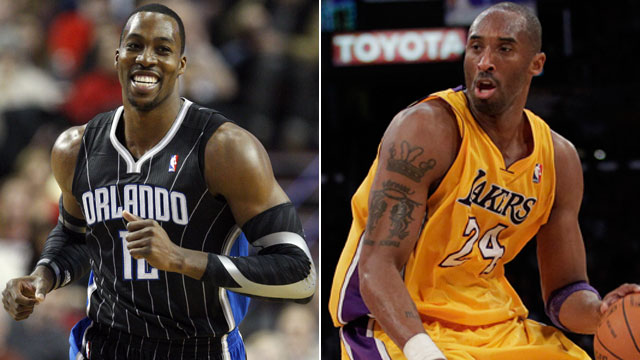 LA Lakers (10-5) at Orlando Magic (10-4)
The Los Angeles Lakers will visit the Orlando Magic Friday night in central Florida at the Amway Center.
The Lakers have transitioned quite well from Phil Jackson to Mike Brown. Under Brown, the Lakers look rejuvenated, and look like a title contender. L.A. is 10-5 this season and getting it done on both ends of the court. Kobe Bryant is playing like a man possessed, averaging 30.8 ppg with a bad wrist. Usually Kobe picks and chooses his spots, but this year Kobe is out to make a statement, and I do not think that should go unnoticed. When he is healthy and has some support, Kobe is far and away the best player in the league, period. Andrew Bynum is averaging a double-double with 16.5 ppg and 13.9 rpg. Pau Gasol is not too far off either, averaging 15.9 ppg and 9.5 rpg. The Lakers lead the league in rebounding, and any time you can get a player like Kobe extra possessions, it is going to lead to wins.
The Magic are quietly putting together a nice season in Orlanda, going 10-4 to start the season. Three of the Magic's four losses have come to some of the league's best teams in Oklahoma City, Chicago, and San Antonio. Dwight Howard is having yet another monster season, but whether or not he will be traded remains to be seen. Howard is averaging 20.1 ppg and a ridiculous 15.6 rpg. Superman will have his biggest test of the season with the Lakers frontcourt, which arguably the best in the league. Andrew Bynum is one of the only players in the league that can physically matchup with Howard, and it should be a great battle. The Magic are also getting Ryan Anderson, Hedo Turkoglu, and J.J. Redick this year as well.
The Lakers are 7-8 ATS and the Magic are 7-6-1. L.A. is 1-4 ATS on the road and Orlanda is 3-4 ATS at home.
The Orlando Magic and Dwight Howard must make momentous choices about their futures in the weeks ahead. Those decisions, whatever they turn out to be, could affect Los Angeles Lakers center Andrew Bynum.
That is what makes Friday's Magic-Lakers matchup at Amway Center so intriguing. The Magic's current center could be facing the Magic's center of the future.
To understand how Bynum compares to Howard, the Orlando Sentinel asked an executive for an NBA team, ESPN analyst Jon Barry and NBA TV analyst Dennis Scott to evaluate Bynum. Their conclusions are similar: Although Bynum is a very good player who is improving, he simply is not on Howard's level.
"If you took Bynum and put him on the Orlando Magic, they're not 10-4 right now," Barry said. "There's just no way. I don't see him as being a guy that carries a team. He's not a franchise player. Dwight Howard is a franchise player."
This is the dilemma the Magic face. Howard finished as the runner-up in last season's MVP voting, and it will be enormously difficult for Orlando to receive equal value if the franchise decides it must trade him before the March 15 trade deadline.