Milwaukee Bucks vs Miami Heat
Season Series: tied 0-0
1/22

- MIL

@

MIA

2/1

- MIA

@

MIL

2/13

- MIA

@

MIL
Preview:
The Miami Heat are coming off three straight victories over top-notch competition -- all without an injured Dwyane Wade.
Facing a Milwaukee Bucks team that has only one road win may provide another boost to their confidence.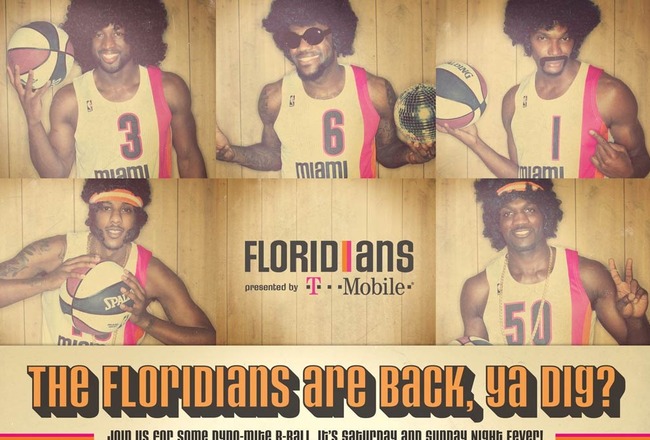 Wade's status again is uncertain Sunday as Miami seeks to continue its winning streak against red-hot Brandon Jennings and visiting Milwaukee.
The Heat (11-4) improved to 6-0 this season without Wade and 6-1 at home with a 113-92 victory over Atlantic Division-leading Philadelphia on Saturday. The healthy two of Miami's Big Three stepped up in Wade's absence, as Chris Bosh scored a game-high 30 points and LeBron James added 28 points, nine rebounds, five assists and four steals.
Wade has been sidelined the last three games with a sprained right ankle, though the Heat haven't been fazed. They routed San Antonio 120-98 on Tuesday and beat the Los Angeles Lakers 98-87 on Thursday before Saturday's win over the 76ers.
"Championship is on our mind and in order to do that, we're going to have to beat the best teams," said Bosh, who surpassed 12,000 career points.
James, averaging 31.8 points over his last four games, said the tough competition will only benefit the Heat.
"We looked at this as a huge week, a huge opportunity for us to get on a roll," James said.
The Heat have scored at least 100 points in 11 of 15 games and are averaging a league-high 107.0 per game.
"We believe in our offense," Bosh said. "We feel that when we move the ball, when we get stops first and then we're out in the open court in transition and being aggressive, we feel that we cannot be stopped."
Heat coach Erik Spoelstra said Wade remains day to day but has been showing improvement. He said he doesn't know if Wade will play against the Bucks.
Wade missed the Heat's last meeting with Milwaukee on April 6, when James' 29 points weren't enough to prevent the Bucks (5-9) from winning 90-85 in Miami.
It marked Milwaukee's third victory in the last four matchups at AmericanAirlines Arena, despite the fact Jennings finished with only nine points.
Jennings, though, has been on fire in his last two contests, netting a season-high 36 points in the Bucks' 100-86 win over New York on Friday -- their first victory in nine road games -- which ended an overall three-game skid.
"Brandon was good. He made some big shots for us," coach Scott Skiles said of Jennings, who also scored 30 points Tuesday in a loss to Denver. "When we got some separation in the second half, he was carrying us a bit offensively."
Jennings and Shaun Livingston -- who scored a season-high 18 points against the Knicks -- helped make up for the absence of Stephen Jackson after Skiles benched him for missing the morning shootaround.
The Bucks held New York to 37.0 percent shooting and forced 25 turnovers.
"I thought it may have been our best defensive game," Skiles said.
Though Milwaukee has had some recent success in Miami, Jennings hasn't played his best against the Heat. He's averaging 10.5 points in six career games -- his second-worst lifetime average versus any opponent. He averages 9.8 against Atlanta.
The Miami Heat look to continue their solid play on the year as LeBron James and company welcome the Milwaukee Bucks to town.
The Miami Heat are one of the top teams in the league again this season with a very good 11-4 record up to this point. Miami is 3-2 in their last five games, and the Heat are currently riding a three game win streak. Miami has the top scoring offense in the league as the Heat are putting up a whopping 106.6 points per game. Unfortunately in the game of basketball, dynamic offense usually means a limited defense and that is the case in Miami as the Heat are ranked 24th in the league defensively allowing 98.4 points per game to opponents. LeBron James is the leading scorer for the Heat again this season as James is putting up 29.9 points per game. The Heat defeated the 76ers in their last game on Saturday, and the Heat were led by James with 28 points and Chris Bosh with 30. It should be noted that Dwayne Wade is still listed as day to day with his injured knee.
The Milwaukee Bucks are towards the middle of the pack in my NBA power rankings, despite the Bucks having a losing 5-9 record on the year. Milwaukee has played a brutal schedule thus far and things don't look that much brighter in the future. The Bucks are scoring an average of 92.4 points per game on the year, ranking the Bucks 22nd in the league in overall scoring offense, however the Bucks do play a bit better on the defensive side of things as Milwaukee is ranked 18th in the NBA in scoring defense allowing 95.4 points per game. Brandon Jennings is the leading scorer for the Bucks as Jennings is averaging 19.9 points per game. The Bucks got a win their last time out as Milwaukee defeated the New York Knicks 100-86 on Friday.
The total has gone under seven of the last nine times the Bucks and Heat have met, and the Heat are just 2-4 overall in their last six games at home against the Bucks. Milwaukee is 6-12 in their last 18 games against the spread, and the total has gone under in seven of the last nine road games for the Bucks.