Real Madrid vs Barcelona Live Copa Del Rey 2012
Real Madrid defeated Barcelona in the 2011 Copa Del Rey final and frustrated them in their UEFA Champions League semifinal by switching away from their normal formation and playing Pepe in the center of midfield. Pepe, a defender by trade, did an excellent job of breaking up play with his athleticism and aggression in a more advanced role, and displayed the technical ability required to play in the midfield.
Because of injuries, Pepe had to play in defense in the Clasico in December, but Madrid is now a healthier team. Additionally, young defender Raphael Varane now has more games under his belt and is impeccable form. Could this potentially lead to the return of Jose Mourinho's trivote with Pepe anchoring the midfield? Real Madrid blog Managing Madrid believes that it could.
Copa del Rey preview: Real vs. Barca
Can Pep Guardiola's side raise its game (again) against its archrival?
By Graham Hunter
http://espn.go.com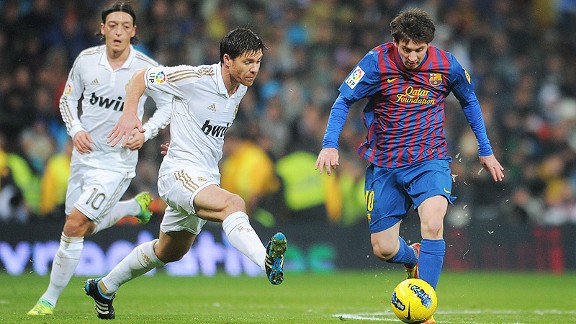 Just before two teams that have already scored 203 competitive goals between them this season do battle once again, it might seem strange to talk about defense rather than glory in their extravagant attacking power. But that's the groove I'm in right now.
The Copa del Rey has paired holder Real Madrid CF and FC Barcelona again, this time in the quarterfinals, just as it did for an epic, bruising and ultimately deeply significant final in April. Los Blancos won that night at the Mestalla, and I, for one, was hugely pleased for one of football's all-time greats, Iker Casillas, after he finally lifted the trophy that had eluded him for so long.
Now we can enjoy two more Clasicos over the next eight days with all the operatic drama they unerringly present. The first one is Wednesday at the Santiago Bernabeu, and the return leg is on Jan. 25 at Camp Nou.
Although I have never been afraid to admit that some of the ill will between the sides is important to make the dish nice and spicy, there are limits -- limits that I believe Jose Mourinho, Pepe and Marcelo ignored last season. So it's healthy to report that the buildup to these games has been significantly less provocative, angry and accusatory.
What caught my attention was when Xavi addressed the media on Sunday in the aftermath of Barca making hard work of beating a bold and inventive Real Betis side 4-2 in one of the best matches of the season. As the little Catalan maestro turned to face yet another Madrid episode in his extraordinary career, he said, "We will go to the Bernabeu and try to be the main protagonists in the match. We will try to dominate possession -- keeping the ball is the best defense which exists."
Obviously, Xavi means that sincerely. It's the credo he has been taught since before he was a teenager during thousands of training hours in futbol base (youth football) at FC Barcelona -- and which, to be fair, is something that has come naturally to him while playing football as a kid in Placa del Progres, Terrassa.
For Barcelona, there are many times, particularly under Pep Guardiola, when that ethos has soaringly, shiningly proven its efficacy. In Rome against Manchester United, Barca made good on Sir Alex Ferguson's prophecy that they can "kill you with their passing" while winning the 2009 Champions League. Ditto Wembley 2011. At the Bernabeu last month, Guardiola's team used its default style to first blunt and then destroy Real Madrid after falling behind to the fastest goal in Clasico history.
After Barca weathered Madrid's impressive storm that fell just short of being perfect, Lionel Messi & Co. used the ball to tire and then toy with Madrid. That 3-1 win was brutally emphatic despite Cristiano Ronaldo's two gilt-edged missed chances. The essence of Xavi's thinking was borne out. If you maintain the ball, using it to jab and torment, the opponent will succumb 99 times out of 100.
Possession, in that case, is more than 9/10ths of the law.
But Barcelona has to defend old-school style, too. Let's not make any bones about that.
Last season, the return of Carles Puyol against Madrid from a long injury that eventually required knee surgery was little short of heroic. He played little from January onward and suffered a relapse on the eve of the Champions League final. But in April and May, Puyol ushered his team through two draws plus a victory over Real Madrid in the space of 16 days.
Some of the cosseting Puyol has needed this season, being used irregularly, has been the bill to pay for how vital his partnership with Gerard Pique was last spring.
So if Puyol doesn't take the field alongside Pique on Wednesday night, then either he is injured or Guardiola cares a great deal less about the Copa del Rey than La Liga or the Champions League.
Should Puyol play, Pique, for one, will be delighted. "He [Puyol] has had a huge influence over me," Pique says. "It's like having my brother in the dressing room. Our chemistry has always been good and our friendship goes way beyond the dressing room. We get together for lunch or dinner. All that has deepened our defensive partnership to the extent that we just need to exchange a look and we understand what to do. Carles is an example for young and old alike. He's been captain for a long time, which is a pressurized position in a club like this. Not so much now because we've been winning for three years, but during the period [when] we weren't winning it was very tough to be captain."
So now on to the more thorny subject of how Real Madrid "defends" against Barcelona.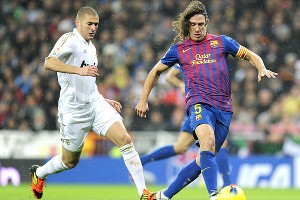 Last season, Mourinho began to look a little like Mickey Mouse in the Fantasia version of "The Sorcerer's Apprentice." Tired of being beaten by Barcelona (Mourinho had faced the Catalans 16 times with Chelsea, Inter and Madrid, winning only three) he had the bright idea of turning his defensive strategy into something close to unarmed combat. But the more the snarling attitude led to red cards and as the opprobrium rained down, the less likely Madrid looked like besting its rival. Things ran out of control.
Then there was the matter of defending Real Madrid's interests, defending its name. Mourinho's 'Por que, por que, por que' rant when he seemed on the verge of blaming everyone from John Wilkes Booth to Mother Theresa for how referees treated his team was the low point of the 12 Jose vs. Pep contests we have seen between Barca on the one hand and Inter or Real Madrid on the other.
But for many born and bred Madrilenos and Madridistas, the unpardonable sin was renouncing attack, verve and ambition in the 0-2 Champions League semifinal defeat at the Bernabeu last season. The concept of defense that day was to deploy as the seek-and-destroy attack dog in midfield, cede possession to Barca and play rope-a-dope until the Spanish champions tired so that they could be picked off by a couple of fresh subs.
It never happened.
From that moment on, Mourinho has patently learned something. The three best games of his reign when playing Barca, strangely, do not include the only time he has won [the Copa del Rey final]. No, the 1-1 Champions League second-leg match in Barcelona that Madrid could easily have won, plus the 2-2 and 3-2 Spanish Supercup games, are the encounters when Madrid was bold, pressed and harassed as the players streamed forward with attacking hunger.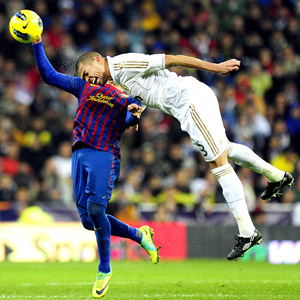 In Spanish, they call it "tu a tu." In English, we'd say "me and you," or "going toe to toe."
Each time the margins have been infinitesimally small, Madrid came away having given, in a football sense at least, a tremendous account of themselves.
Pepe has been offering himself up to play in midfield again this week and I pray, for the sake of the game and for the sake of Real Madrid's reputation that (A) Mourinho does not take that regressive step; and (B) if he does then Pepe attempts to avoid his tendency to show all the self-control of a fox in a chicken coop.
First of all, Madrid's image doesn't need more of the damage it received last spring. Secondly, Pepe and Sergio Ramos are a rapid and effective defensive pairing. It's in the center-back position that Pepe does his best work. Moreover, if that partnership is broken up, the pairings that are left, especially given Alvaro Arbeloa's absence through suspension, are significantly second best.
http://espn.go.com