February 26 2012
NBA All Star Game
7:30 PM ET
2012 NBA All-Star Roster: East vs. West, Who Has the Better Starting 5?
By Matt Shetler (Featured Columnist)
http://bleacherreport.com
on February 3, 2012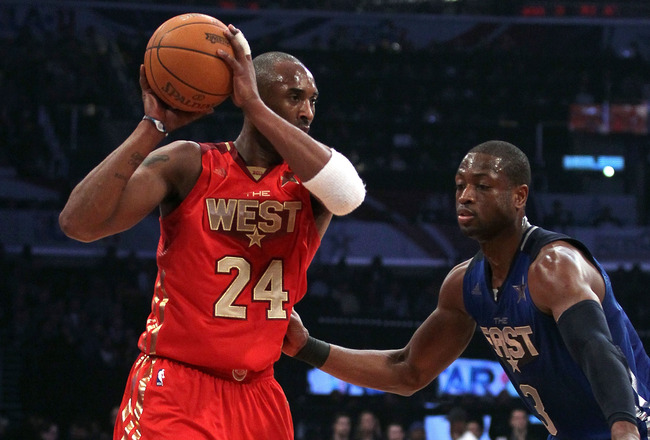 The starters for the 2012 NBA All-Star game were announced yesterday, and there were no surprises on either roster, but one thing is for sure: Both starting rosters are loaded and when these 10 guys are on the floor together, fans are promised excitement.
There's a strong Miami and Los Angeles presence on the rosters, led by LeBron James and Dwyane Wade in the East and Kobe Bryant, Andrew Bynum, Chris Paul and Blake Griffin in the West. The reigning MVP Derrick Rose, Carmelo Anthony and Dwight Howard round out the Eastern Conference starters, while Kevin Durant is the other Western Conference starter.
Which team has the better starting five, though?
The East is probably the more athletic team on paper, but we're giving the slight nod to the Western Conference overall. The reason being is the frontcourt of the West.
The East boasts James, Anthony and Howard, which is a more then formidable frontcourt, but the edge goes to the Durant, Griffin and Bynum unit.
Since we are just looking at the starters here, we aren't taking into account the massive talent at the forward position that the West will have on the bench. That fact will give them a distinct advantage over the East.
Simply looking at the starters, the West still has the slight advantage. Durant's pure scoring ability combined with the pure power of Griffin and Bynum make the West a tough matchup for the East.
Naturally, the All-Star Game is wide open and traditionally doesn't feature as much half-court offense as a regular season game does. But when it gets into the half-court set, the West has the advantage because of Griffin.
With Anthony and James on the floor, the East doesn't have a true power forward to matchup with Griffin on the block. Both could do a decent job defending Griffin, but he should have the advantage against either guy.
Durant will get his against whoever is guarding him, and Bynum will have success banging against Howard, but Griffin is the guy that could swing the advantage in favor of the West. Of course, he's going to have to defend either James or Anthony as well, which is a bad matchup for him, but getting the ball down on the block would be in favor of the West.
There's real no right answer here, with 10 of the best players in the NBA on the floor at once. But given the choice, we're going with the Western Conference starting five by the slightest of margins.

Howard top vote-getter in 2012 All-Star balloting
By Official NBA
Posted Feb 2 2012 7:51PM
• All-Star starting lineup
NEW YORK -- Orlando Magic center Dwight Howard, winner of the last three Kia NBA Defensive Player of the Year awards, is this year's leading vote-getter in the 2012 NBA All-Star Balloting program presented by Sprint with 1,600,390 votes. Los Angeles Lakers guard Kobe Bryant, a four-time All-Star MVP (2002, 2007, 2009, and 2011), is the leading vote-getter in the Western Conference with 1,555,479 votes. Bryant ties Jerry West, Karl Malone, and Shaquille O'Neal for the most consecutive All-Star nods in NBA history with 14.
All-Star Starters: Eastern Conference
The Eastern Conference All-Star Starters are revealed and the debate begins.
The 2012 NBA All-Star Game, which will air live at 8 p.m. ET on TNT and ESPN Radio in the U.S., and reach fans in more than 200 countries and territories in more than 40 languages, will be played at Amway Center in Orlando on Sunday, Feb. 26, 2012.
Joining Howard in the Eastern Conference starting lineup at the forward position are the Miami Heat's LeBron James (1,360,680), the 2006 and 2008 All-Star Game MVP, and the New York Knicks' Carmelo Anthony (1,041,290). The starters for the East at guard are the Chicago Bulls' Derrick Rose (1,514,723) and the Heat's Dwyane Wade (1,334,223), the 2010 All-Star Game MVP.
Bryant, who joins Hall of Famer Bob Pettit (1956, 1958, 1959 and 1962) as the only four-time All-Star Game MVPs in NBA history, is joined in the Western Conference starting backcourt by the Los Angeles Clippers' Chris Paul (1,138,743). The Oklahoma City Thunder's Kevin Durant (1,345,566) and the Clippers' Blake Griffin (876,451), making his first All-Star Game start, are the starting forwards. The Lakers' Andrew Bynum, a first-time All-Star, gets the nod at center (1,051,945). This marks the first time since 1997 (Houston's Hakeem Olajuwon and Charles Barkley, and Seattle's Shawn Kemp and Gary Payton) that two pair of teammates have been voted to start for one conference.
2012 NBA All-Star Balloting presented by Sprint allowed fans around the world the opportunity to vote daily for their favorite players as starters for the 2012 NBA All-Star Game. Fans were able cast their votes as part of this season's all-digital program, including in 16 languages on NBA.com or by visiting m.NBA.com on any wireless carrier. Fans also had the option to vote through mobile phones. Sprint customers in the U.S. were also able to access the ballot and vote through the new "Sprint NBA Mobile" application, the most comprehensive app in the marketplace for NBA fans. All-Star Balloting also included expanded SMS voting, allowing fans in the U.S. and Canada to vote for 10 different players per day.
All-Star Starters: Western Conference
Los Angeles is flush with starters for the All-Star Game and Shaq gives Blake a new nickname.
In selecting the reserves, the 30 NBA head coaches must vote for seven players within their conference, including two guards, two forwards, a center and two players regardless of position. Coaches are not permitted to vote for players on their team. After the coaches select the reserves, if a player is unable to participate in the All-Star Game, NBA Commissioner David Stern will select a replacement. Reserves will be announced Feb. 9, on TNT.
The East and West All-Star coaches and coaching staffs will be determined by the best record in the conference through games played Feb. 15.
NBA All-Star 2012 in Orlando will bring together some of the most talented and passionate players in the league's history for a global celebration of the game. TNT will televise the All-Star Game for a 10th consecutive year, marking Turner Sports' 28th year of All-Star coverage. NBA All-Star Saturday Night presented by State Farm will feature the Haier Shooting Stars, Taco Bell Skills Challenge, Foot Locker Three-Point Contest, and Sprite Slam Dunk. Other events at NBA All-Star 2012 will include the NBA Rising Stars Challenge, Sprint NBA All-Star Celebrity Game, and NBA All-Star Jam Session. Orlando also hosted NBA All-Star in 1992.
The leaders of both the Eastern and Western Conference players for the first returns of 2012 NBA All-Star Balloting presented by Sprint are below.
Eastern Conference
F -- Carmelo Anthony, New York
F -- LeBron James, Miami
C -- Dwight Howard, Orlando
G -- Derrick Rose, Chicago
G -- Dwyane Wade, Miami
Head coach: TBD
Western Conference
F -- Blake Griffin, L.A. Clippers
F -- Kevin Durant, Oklahoma City
C -- Andrew Bynum, L.A. Lakers
G -- Kobe Bryant, L.A. Lakers
G -- Chris Paul, L.A. Clippers
Head coach: TBD
Eastern Conference Balloting | Presented by Sprint
Forwards: LeBron James (Mia) 1,360,680; Carmelo Anthony (NYK) 1,041,290; Amar'e Stoudemire (NYK) 383,734; Kevin Garnett (Bos) 367,914; Chris Bosh (Mia) 324,605; Luol Deng (Chi) 276,205; Paul Pierce (Bos) 215,020; Carlos Boozer (Chi) 175,828; Andrea Bargnani (Tor) 152,362; Josh Smith (Atl) 119,638.
Guards: Derrick Rose (Chi) 1,514,723; Dwyane Wade (Mia) 1,334,223; Rajon Rondo (Bos) 547,110; Ray Allen (Bos) 382,147; Deron Williams (NJN) 208,697; Jose Calderon (Tor) 132,167; Richard Hamilton (Chi) 111,368; John Wall (Was) 96,606; Kyrie Irving (Cle) 96,346; Joe Johnson (Atl) 66,145.
Centers: Dwight Howard (Orl) 1,600,390; Joakim Noah (Chi) 236,497; Tyson Chandler (NYK) 163,077; Joel Anthony (Mia) 101,307; JaVale McGee (Was) 63,765; Al Horford (Atl) 50,396.
Western Conference Balloting | Presented by Sprint
Forwards: Kevin Durant (OKC) 1,345,566; Blake Griffin (LAC) 876,451; Pau Gasol (LAL) 470,353; Dirk Nowitzki (Dal) 468,435; Kevin Love (Min) 373,880; LaMarcus Aldridge (Por) 279,500; Tim Duncan (SA) 185,069; Lamar Odom (Dal) 142,830; Danilo Gallinari (Den) 110,245; Rudy Gay (Mem) 95,228.
Guards: Kobe Bryant (LAL) 1,555,479; Chris Paul (LAC) 1,138,743; Ricky Rubio (Min) 397,456; Steve Nash (Pho) 276,268; Russell Westbrook (OKC) 262,186; Kyle Lowry (Hou) 185,584; Monta Ellis (GS) 156,603; Chauncey Billups (LAC) 120,961; Jason Kidd (Dal) 114,924; Manu Ginobili (SA) 111,273.
Centers: Andrew Bynum (LAL) 1,051,945; DeAndre Jordan (LAC) 322,056; Marc Gasol (Mem) 285,525; Nenê (Den) 207,102; Marcin Gortat (Pho) 136,168; Kendrick Perkins (OKC) 99,811.