Attached above is the current standings in the NBA, according to their Conf. as of 20th February 2012.


Eastern Conference
1. Miami
2. Chicago
3. Philadelphia
4. Orlando
5. Atlanta
6. Indiana
7. Boston
8. New York


Western Conference
1. Oklahoma City
2. San Antonio
3. L.A. Clippers
4. Dallas
5. L.A. Lakers
6. Memphis
7. Houston
8. Portland
This is the current standings of teams in the NBA regular season.
Miami Heat leads all the other 29 teams with 25 wins and 7 loss, trailing behind is Chicago Bulls 25 wins, 8 loss while Oklahoma City Thunder has 24 wins and 7 losses to take rank 3.


Philadelphia 76ers had a great start, although landed themselves in a 3rd straight loss after losing the game against Timberwolves, ranks 3rd in the Eastern conf and 5th-7th(tied with ORL & DAL) overall with 20W 12L. Consisting with only 1 All-Star Andre Iguodala, this team full of young players may not be able to stand firm in the Top 10 teams in league, but definitely able to clinch a spot in the playoffs.
Boston Celtics has a very high chance of falling off the 7th seed to the 8 and maybe even out of the playoffs, hopefully not. With Paul Pierce back from injuries for already a few games, Brandon Bass and Kevin Garnett sits out on their most recent match-up and loss against Detroit, 1 of the 10 worst teams with 11W 22L record. Rajon Rondo just have to play consistently well enough to lift the game up by dishing dimes to his inconsistent teammates on the offense side; Ray, KG and Pierce.
New York Knicks had a 8-15 start then to a 8-1 run after the emergence of Jeremy Lin to make it to the 8th seed with 16-16 record. Jeremy Lin stirred up a Linsanity(Lin + Insanity) (林来疯) to shock the media from the whole world with his outstanding performances.
J-Lin 林书豪 is an American-born Chinese with Taiwanese roots, gained several nicknames by the Chinese media. To name a few would be 豪小子, which means good fellow and sounds exactly like his name (林书"豪") & 零输豪, which means zero loss when he brought NYK to a 7-0 run.
He made his debut with the Golden State Warriors last season but is placed on the 3rd line PG, fighting minutes with 3 other bench guards with Monta Ellis & Stephen Curry taking the starter-spots.
He made career nights in a string after his 4th Feb game against the New Jersey Nets, scoring 25 career-high points, 5 career-high rebounds and seven career-high assists, leading to a 99-92 victory.
The next game may seem hard for J-Lin as Carmelo Anthony sits out due to groin injuries & Amar'e Stoudemire out to attend his old brother's funeral but Jeremy Lin surprises everyone with 28 points and eight assists, both new career-highs.
Linsanity was brought to 3rd game against the Washington Wizards where he fought against John Wall, the 2010 draft round 1 pick 1 and also one of the "unguardable" guards along Derrick Rose, Dwayne Wade & Chris Paul. J-Lin won the match-off with 23 points and 10 assists, recording his career first double-double.
Bringing the streak to 3 and aiming for the fourth, J-Lin faced Lakers legendary Black Mamba, Kobe Bryant, who scored 34 points, unmatched for J-Lin's new career-high 38 points and seven assists.
After settling Deron Williams(Nets), John Wall (Wizards) and Kobe Bryant (Lakers), J-Lin meets Timberwolves star point-guard Ricky Rubio, well known for his remarkable passes and dimes. Lin scored 20 points and 8 assists to bring the Knicks to a narrow 100-98 victory, limiting Ricky Rubio to 12 points and 8 assists.
J-Lin scored 89, 109 and 136 points in his first three, four and five career starts, respectively, becoming the most by any player since the merger between ABA and NBA in 1976-1977, surpassing several legends such as Allen Iverson and Michael Jordan with that feat.
After averaging 27.3 points, 8.3 assists and 2.0 steals, Jeremy Lin is named the Eastern Conference Player of the Week, over LeBron James and all any stars in the Eastern conf.
With the winning streak at 5, J-Lin and the Knicks faces Toronto Raptors where he hits a game-winning three-pointer with less than a second to play to bring the Knicks to a perfect 6-0 run.
Jeremy Lin became the first NBA player to score at least 20 points and have seven assists in each of his first five starts.
Ready for perfect 7, J-Lin faces the Sacramento Kings and recorded a career-high 13 assists, bringing the Knicks to 15-15.
Linsanity was brought to a stop after the New Orleans Hornets defense forced him a career-high 9 turnovers.
Just today, facing with fellow Chinese ancestry player Yi Jianlian, J-Lin recorded a career-high 14 dimes and five steals to bring the Knicks above Dallas Mavericks 104-97, bringing the Knicks back to a .5 record of 16-16. Emergence of J-Lin, addition of J.R Smith, comeback of Baron Davis, return of Carmelo Anthony & Tyson Chandler's add-on, NYK has turned into a must-watch team now. If they are able to make it out on the offense and defense side with Baron Davis and Carmelo back to the line-up, this 8-1 will continue to stretch up high.
Chicago Bulls went on a 7-3 run in the last 10 games. With Derrick Rose, the reigning MVP and All-Star point-guard, out due to injuries, the Bulls managed to make use of Luol Deng, Kyle Korver, Taj Gibson, Joakim Noah and Carlos Boozer to work on the offense and defense. Can't wait to see the healthy Bulls playing again with D.Rose and Hamilton back.
With All-Star center Dwight Howard contract coming to an end and requesting for a trade, the Orlando Magic finds all ways to make him change his mind magically hopefully. Orlando Magic is well known for their big man in the paint, Howard, Ryan Anderson and the newly recruited Glen Davis, as well as their shooting from the arc. They have a good 3-point shooters Jameer Nelson, J.J Redick, Jason Richardson and many more to make Magic a strong Eastern conf threat.Looking forward to see how they are going to adapt to the changes.
TWolves at a 16-16 record now but ranks 11th in the Western Conf. while NYK ranks 8th. This shows clearly that Western Conf is actually winning more matches against the Eastern.
TWolves is a very high potential team with K.Love, Pekovic, starting in the absence of Darko Milicic, Beasley, D.Williams and Ricky Rubio. TWolves is another must-watch team of mine.
Kevin Love made a pair of clutch free-throws after he is fouled with 0.01 seconds left to play against the 76ers just today to lead the Wolves to victory 92-91. Leading the league with the most double-doubles, Kevin Love has 27, trailing closely behind is Dwight Howard with 24. Blake Griffin has 20 to stand the 3rd spot. K.Love also rank second in the league in rebounding with 14.2 rebounds per game while DH12 with 15.3 at top. Kevin Love is the NBA record holder for having the most consecutive double-doubles in a season with 53. 2011 All-Star, Rebounding Champion and Most Improved Player, Kevin Love will be sent to the Footlocker 3-Point Shootout contest against James Jones, who defeated 2 Celtics; Paul Pierce and Ray Allen in 2011, Ryan Anderson and other 3.
Oklahoma City Thunder
Who is the best duo in the league? Some used to say Kobe Bryant & Pau Gasol but that was last year. LeBron James and Dwayne Wade? They're on par with this duo and only until today, they are now the strongest duo in the league, scoring for a combined 91 points.
Yes, who? Kevin Durant the Durantula scored 51 career-high points after entering to a thrilling OT against the Denver Nuggets after sinking in a deadly dagger from the 3-point arc and dunk. Addition to KD's 51, Russell Westbrook had a career-night 40 points and 9 assists. The duo are both going to Orlando this year for 2012 All-Star game. Career nights for not just 2, joining them is Serge Ibaka with a career-triple-double of 14 points, 15 rebounds and 11 blocks.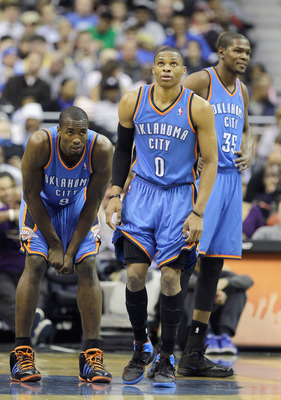 Marking another NBA history and franchise history, this is the first time a career night for 3 with 50++ points, 40++ points and triple-double. Really amazing game and night for the Thunder.
NBA All-Star 2012 will be held in Orlando in the March.
Let's check out my predictions on each of the following segment.
Foot Locker Three-Point Contest Winner: Kevin Love/Ryan Anderson/James Jones
(Anthony Morrow & Joe Johnson can be quite a threat too but I hope K.Love wins it)
http://www.nba.com/allstar/2012/3point//index.html?ls=iref:nbahpt1
Sprite Slam Dunk Contest Champion: Derrick Williams
(TWolves for the win)
http://www.nba.com/dunk/?ls=iref:nbahpt1
Team Shaq vs Team Chuck: Team Shaq
(Put Shaq down and win the game)
http://hangtime.blogs.nba.com/2012/02/16/teamshaq-rules-rising-stars-draft/?ls=iref:nbahpt1
Rising Stars Challenge MVP: Blake Griffin/Jeremy Lin/John Wall
NBA All-Star Winner: Western Conference/Eastern
(If Western wins, Kobe MVP. Eastern wins = LeBron MVP)
http://hangtime.blogs.nba.com/2012/02/02/east-starters-no-rest-for-the-awesome/
http://hangtime.blogs.nba.com/2012/02/02/west-starters-k-d-goes-hollywood/
NBA All-Star MVP: Kobe Bryant/LeBron James
Tacobell Skills Challenge: Steph Curry/Chris Paul/Deron Williams
Sixth Man Of The Year: James Harden/Lou Williams/Mo Williams
Coach of the Year: Rick Adelman(MIN)/Doug Collins(PHI)
Rookie of the Year: Ricky Rubio/Kyrie Irving
Most Improved Player of the Year: Jeremy Lin
Steals leader: Ricky Rubio/Chris Paul
Assist leader: Steve Nash/Chris Paul/Ricky Rubio/Rajon Rondo
Rebounding champion: Kevin Love/Dwight Howard
Scoring leader: Kobe Bryant/LeBron James/Kevin Durant
Defensive Player of the Year: Dwight Howard/Serge Ibaka
Most Valuable Player MVP: LeBron James/Kobe Bryant/ Kevin Durant
*The name that comes first = first choice
Names after the slash / would be second and so on.