THURSDAY, FEBRUARY 23, 2012
New York Knicks vs. Miami Heat
7 pm ET

or CLICK THIS LINK!
New York Knicks vs. Miami Heat: TV Schedule, Live Stream, Spread Info and More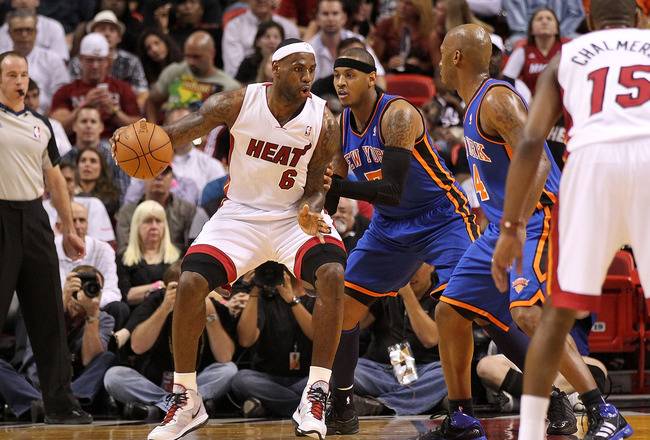 Bleacherreport.com
The last day of basketball before the NBA All-Star break is going to feature some great basketball.
The New York Knicks traveling to take on the Miami Heat is going to be one of those must watch games.
Both of these teams are extremely hot as Miami has won seven games in a row, and New York has won nine of their last 11. You can expect both of these teams to make deep runs in the playoffs, and it wouldn't be surprising if this ended up becoming a preview of the Eastern Conference finals.
There's a lot of star power, from LeBron James and Dwayne Wade to Carmelo Anthony and Jeremy Lin. Don't miss this matchup as it's going to be a fantastic contest.
Here's all the information you need regarding this matchup.
Where: AmericanAirlines Arena, Miami, FL
When: February 23, 2012, 7:00 p.m. ET
Watch: TNT, WAXY and WEPN
Live Stream: NBA League Pass
Betting Line: Heat -10
Key Injuries (via USA Today):
Miami: Terrel Harris - Illness (Questionable)
New York: Iman Shumpert - Knee (Questionable)
Bill Walker - Elbow (Questionable)
Josh Harrellson - Wrist (Out)
What's at Stake?
Not only is this a rivalry game and both teams want to win, but it's a statement game as well. Miami wants to continue on their hot streak and build on their best record in the NBA. While New York wants to prove that they are contenders not only in the East, but the entire league.
Many were quick to write them off, but with their recent play, they're beginning to turn heads. A win in Miami would prove a lot to many who are still on the fence with this team.
What They're Saying:
Jeremy Lin talks about the chemistry the Knicks are trying to build on with so many new players entering the team in the middle of the season.
"We're not in panic mode, because it doesn't just work where all of sudden people show up and you have great chemistry," Lin said. "So we're going to have to work through some struggles, so as long as we're all committed and buying in, we'll be fine."
Most Important Player to Watch:
Mike Ehrmann/Getty Images
Enough of the Lin talk for a minute. The most important player in this game to me is Carmelo Anthony. He's the one that's missed time and has to adjust to the way the team has been playing so many games without him. In his two games back, he has scored a combined 26 points on 11-of-27 shooting, which isn't exactly what we're used to seeing from him.
He's had much success against LeBron James in his career as his teams are 9-4 against his. But he's really going to have to step it up if the Knicks expect to pull off the upset in this one. Judging by Lin's track record as of late, he's going to score his and set up his teammates. It's time for Anthony to answer the bell and play the way he's capable of.
Key Matchup:
Chris Trotman/Getty Images
Jeremy Lin against Mario Chalmers and Norris Cole
You knew more Lin talk was coming, and why not? After all, he's been playing amazing basketball lately as you've been reminded over and over. But just how will he adapt to arguably the quickest team in the league? Especially against a team that's ranked sixth in the NBA in steals and against Chalmers who has 42 steals on the season. (Which is 17th most among guards this season)
We know one of Lin's key weaknesses is turnovers, and playing against one of the better defensive teams in the league and one that forces a lot of turnovers will pose a challenge to the young player who's still learning.
Prediction:
It's really hard to pick against Miami with the way they're playing recently, and that's exactly why I'm not going to do it here. Miami is clicking on all cylinders and have the home crowd behind them—a place where they are 14-2 this season.
New York is playing great basketball lately, but with Carmelo Anthony just coming back and having to adjust to Jeremy Lin, it's going to take some time. The Knicks looked great against the Hawks last night, although Atlanta is a team that's lost five of the last six games.
It should be a close and exciting game, but I'm not betting against Miami until they give me a reason to.
Miami wins: 106-98