| | | | | | |
| --- | --- | --- | --- | --- | --- |
| 2nd Pacific | 13 | 9 | 5-5 | 11-2 | 2-7 |
| 2nd Northwest | 14 | 7 | 7-3 | 7-3 | 7-4 |
Season Series: tied 1-1
12/31

-

DEN

89

@

LAL

92

1/1

-

LAL

90

@

DEN

99

2/3

- LAL

@

DEN

4/13

- DEN

@

LAL
VS
| | Points | Rebounds | Assists |
| --- | --- | --- | --- |
| LAL | Bryant 30.0 | Bynum 12.1 | Bryant 5.4 |
| DEN | Gallinari 17.5 | Nene 8.4 | Miller 7.2 |
Lakers-Nuggets Preview:
The Los Angeles Lakers have done a nice job taking care of business at home.
That hasn't been the case on the road.
The Lakers begin a season-high six-game trip Friday night when they face a Denver Nuggets team coming off an impressive victory in Los Angeles.
With Tuesday's 106-73 rout over league-worst Charlotte, Los Angeles (13-9) improved to 11-2 at home. The Lakers, though, are off to their worst road start in nine years with a 2-7 record.
"I'm excited to get on the road and play," said Kobe Bryant, the league leader with 30.0 points per game. "I'm extremely confident that we'll play much better."
Lakers coach Mike Brown hopes that means a better effort on the boards. Despite having two of the NBA's better rebounders in Andrew Bynum (12.1 per game) and Pau Gasol (9.5), Los Angeles has been outrebounded by eight or more three times while losing four of five on the road.
"There are a handful of things we've got to do better on the road," said Brown, whose team plays three games in four nights. "As of late, it's been rebounding, but it also has to do with execution too."
That definitely didn't happen in the Lakers' last visit to Denver, where they committed 15 turnovers, missed 19 of 23 from 3-point range and shot 39.8 percent in a 99-90 New Year's Day defeat.
Bryant scored 16 points in that game to become the sixth player to reach 28,000, but he missed 22 of 28 shots. It was the fewest field goals made in his career with at least 26 attempts.
The Nuggets (15-7), meanwhile, will try to win for the sixth time in the Lakers' last seven visits as they continue their second back-to-back-to-back set of games this season. Denver avoided a season-high third consecutive loss Thursday with a 112-91 victory at the Pacific Division-leading Clippers.
The Nuggets are scoring a league-best 105.7 points per game, but they can also play a little defense. They held the Clippers -- the NBA's fourth highest-scoring team -- to 59 points the final three quarters after falling behind by 13.
Denver is 13-3 when holding opponents below 105 points.
"When we come out with this type of energy on the defensive end, it's tough to catch us," said Danilo Gallinari, who hit a season-high five 3s and scored 21 points.
The Lakers lead the NBA in field goal defense at 41.4 percent, but the Nuggets have six players averaging at least 11.1 points, led by Gallinari's 17.5 per contest.
Los Angeles has far less balance, with Bryant accounting for 32.0 percent of its offense. However, the Lakers have received a nice boost off the bench from rookie point guard Andrew Goudelock, who is averaging 11.5 points over the last four games.
"We got a lot of shooters on this team, with our second group especially," Goudelock said. "They can stretch out the floor with Troy Murphy and (Jason) Kapono obviously, and we got Bynum down low, so they can't really double team because if they do, they really have to pick their poison."
Bynum, named an All-Star starter Thursday along with Bryant, leads the Lakers with 47 points and 29 rebounds in two games versus Denver in 2011-12.
Making his season debut after serving a four-game suspension for knocking down Dallas' J.J. Barea in last year's playoffs, Bynum totaled 29 points and 13 boards in a 92-89 win over the visiting Nuggets on Dec. 31.
Denver Nuggets: Games vs. Clippers, Lakers and Blazers Are All Statement Games
bleacherreport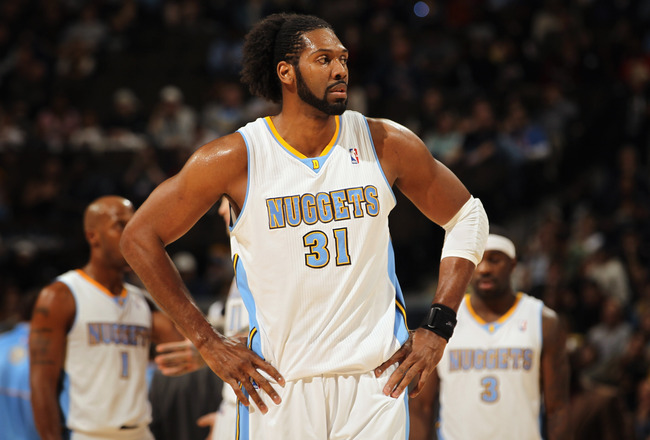 The Denver Nuggets have a huge opportunity on their hands over the next three days. It's a chance to finally separate them from the pack and prove they're legitimate contenders.
Denver plays three consecutive games between now and Saturday, and every single one of them is a statement game.
If the Nuggets want to show the rest of the NBA that they're for real and are more than just another good team in a deep Western Conference, they need to play their best basketball of the season over three straight nights.
Thursday @ L.A. Clippers
The Clippers boast one of the best players in the game today, Blake Griffin.
It might not seem fair to Nuggets fans that the Clippers are getting so much more attention than their team, despite the fact that the two teams have nearly the exact same winning percentage. The Clippers, also haven't made the playoffs in more than five years compared to the Nuggets 50-win season last year.
That's what happens when one team has players like Griffin and Chris Paul and the other prides itself on a balanced attack, in which seven or eight different players are capable of being the difference maker. It might not be fair, but it might favor the Nuggets in this instance.
Griffin might be tough to guard in the low post, but the Nuggets have the ability of throwing three different big, athletic bodies on him, two of which can be on the floor at the same time.
Denver is likely to start two centers against the Clippers—Nene and Timofey Mozgov—so they can match Griffin's muscle. Granted, Mozgov might be a prime candidate for Griffin's next poster, he's a big body that can block shots and will compliment Nene when he is forced to step out to the elbow to guard Griffin.
The other matchup to watch is at the point guard position.Ty Lawson will have his hands full with a player that he should be striving to model his game after, Chris Paul. Lawson is playing in just his second game after returning from an ankle injury.
When Paul and Lawson aren't on the floor, the battle will be between two accomplished veterans, Chauncey Billups and Andre Miller. Billlups has taken on more of a shooting guard role this season, but he'll likely match up with Miller, who picked up the slack nicely during Lawson's absence.
Friday vs. L.A. Lakers
The importance of this matchup as a statement game should write itself. If the point guards and the big men need to step up against the Clippers, then the wings really need to step it up against Kobe Bryant and the Lakers.
Aaron Afflalo and Rudy Fernandez will likely share the assignment of guarding Bryant, so hopefully the Nuggets depth will pay off. Neither player will become too exhausted in their defensive tasks if George Karl manages their minutes well.
Saturday @ Portland Trail Blazers
The Trail Blazers are another team trying to separate themselves from the rest of the pack in the West.
Denver has already played in Portland once this season and fell to the Blazers by a score of 111-102. In a game that saw shooting guard Wesley Matthews catch fire from behind the arc for the Blazers, hitting five three-pointers in eight attempts.
Matthews could be lethal again this time around, as Afflalo and Fernandez could be suffering a mental letdown, a day after their matchup with Kobe Bryant. It might be understandable, but it certainly won't be acceptable in George Karl's eyes, and it hopefully won't be overlooked.
Overall, the Nuggets can't overlook even the smallest detail from now until the end of the night Saturday. This three-game stretch is the only time they will play on three consecutive nights all season.
If they want to prove that they're a team to be reckoned with, this stretch has to be treated as the three biggest games of this abbreviated season, even if it's still early.
|Lakers vs Nuggets|